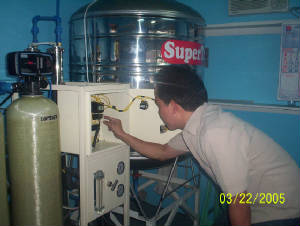 Our system includes a control panel which consist of contactors, overload relays to protect motors from overheating due to overload. It also contains control relays and timers in order to stop the system when the following occurs:
1. Product tank is full.
2. Raw Tank is empty.
3. Low pressure in the system.
4. Backwashing of the pre-treatments
It also gives you an indication for:
1. Product tank full / Raw tank empty
2. Trip due to overload / low pressure
3. Backwashing